Subscribe to our 98th Concert Season!
Includes all Glenn Gould Studio Concerts * Free ticket for 'Yule Sing' Concert , Saturday Dec 8, 2018 at 4PM at Timothy Eaton Memorial Church Toronto for subscribers.
Adult 3 show Pkg $65.00
Student 3 show Pkg $40.00
Senior 3 show Pkg $50.00
Adult – 3 show Pkg $65.00
Student – 3 show Pkg $40.00
Senior –  3 show Pkg $50.00
Tickets
By Phone: 1.866.908.9090
On-line from our secure Ticketing Agent: Ticketpro.ca
Sunday, Oct. 21 at 3 PM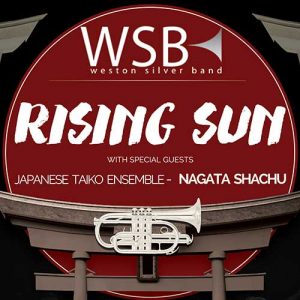 Join the WSB for an afternoon exploring both traditional and contemporary styles of music rooted in Asian traditions. Special guests Nagata Shachu will enthral you with its mesmerizing and heart-pounding performances of the Japanese drum (taiko).
Sunday, Feb.24 at 3 PM
One guitar, Four voices and one big brass band! The WSB and special guest Dan McLean Jrand friends celebrate music from the heart and soul. Don't miss one of the most powerful yet nuanced voices you will ever hear!  R & B / Soul with a big brass spin!
Sunday, May 5 at 3 PM
In the WSB's last concert before departing for their first EVER Tour of England (June 2019), Weston Silver Band bring their signature style to Canadian and British repertoire for what promises to be a fun-filled afternoon of brass music for the whole family!